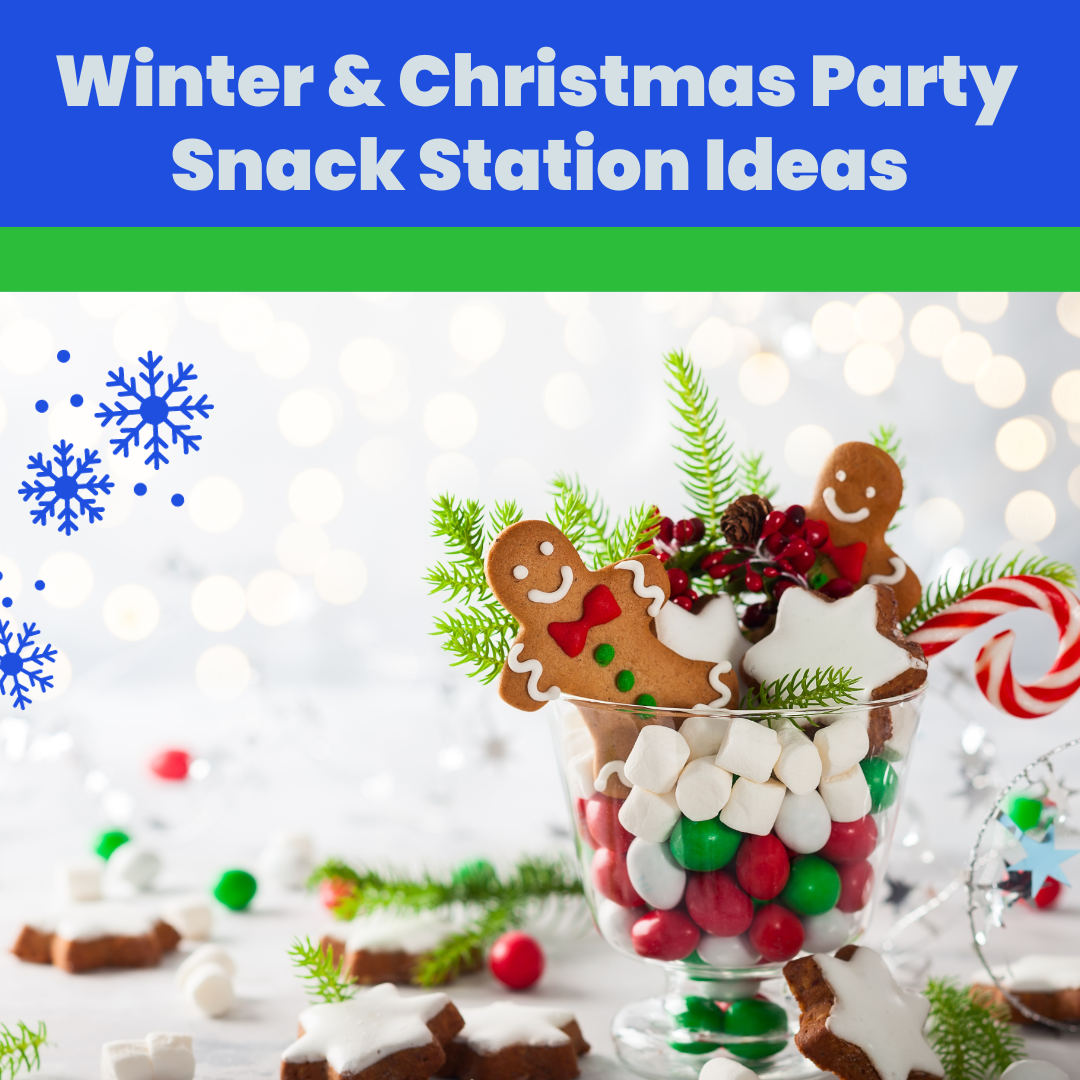 Elementary school winter and Christmas parties are something that students look forward to all year long! Kids make such fun party memories that they'll remember for a lifetime.
As much fun as school parties are, sometimes they can be stressful for the planners because the holidays are a busy time already and we often don't have time to add anything more to our to-do lists. If you've volunteered to bring in a treat for your kiddo's party, below are some easy and cute snack table ideas. 
Before you start planning your table items make sure to grab a FREE PRINTABLE at MyClassroomPARTY.com for the kids to do while snacking! 
  Decorate the snack table with white tablecloths, snowflake decorations, and a fun centerpiece to add to the wintry atmosphere. These snack ideas below are simple and will keep the little ones happy and satisfied during the winter party!
Snowy Popcorn Mix:
Ingredients:
Popcorn
White chocolate
Sprinkles
Mini marshmallows
Instructions:
Melt white chocolate and drizzle it over the popcorn.
Sprinkle with your choice of sprinkles and mix in mini marshmallows.
Pretzel Snowflakes:
Ingredients:
Pretzel sticks
Large marshmallows
Mini marshmallows
This is a fun and interactive snack—a mix of sweet and salty and not too sugary. 
Give each student a few marshmallows and a handful of pretzel sticks and see who can make the best snowflake. After they are done they get to eat it. 
Rice Crispy Treats - Themed:
Ingredients:
Pre-packed rice crispy treats
White meltable chocolate OR easier solution is premade frosting in a package
Blue and white sprinkles or Christmas color sprinkles
Optional treat sticks
Melt the white chocolate, dip half of the rice crispy in it and shake the sprinkles over top. If you're in a time crunch you can use the simple frosting pack instead of melting white chocolate. 
Reindeer Pretzel Snacks:
Ingredients:
Large pretzel sticks
Regular pretzels
Candy eyes
Meltable chocolate
Red round candy of your choice 
Melt the chocolate, dip the pretzels, and add candy eyes, a red candy nose, and small twisted pretzels for antlers to create adorable reindeer snacks.
If you are also in charge of planning the games and activities for the party, check out these fun an easy
class parties in a box
.  They come with all the class party games, activities and decorations needed for your party.  It doesn't get any easier!