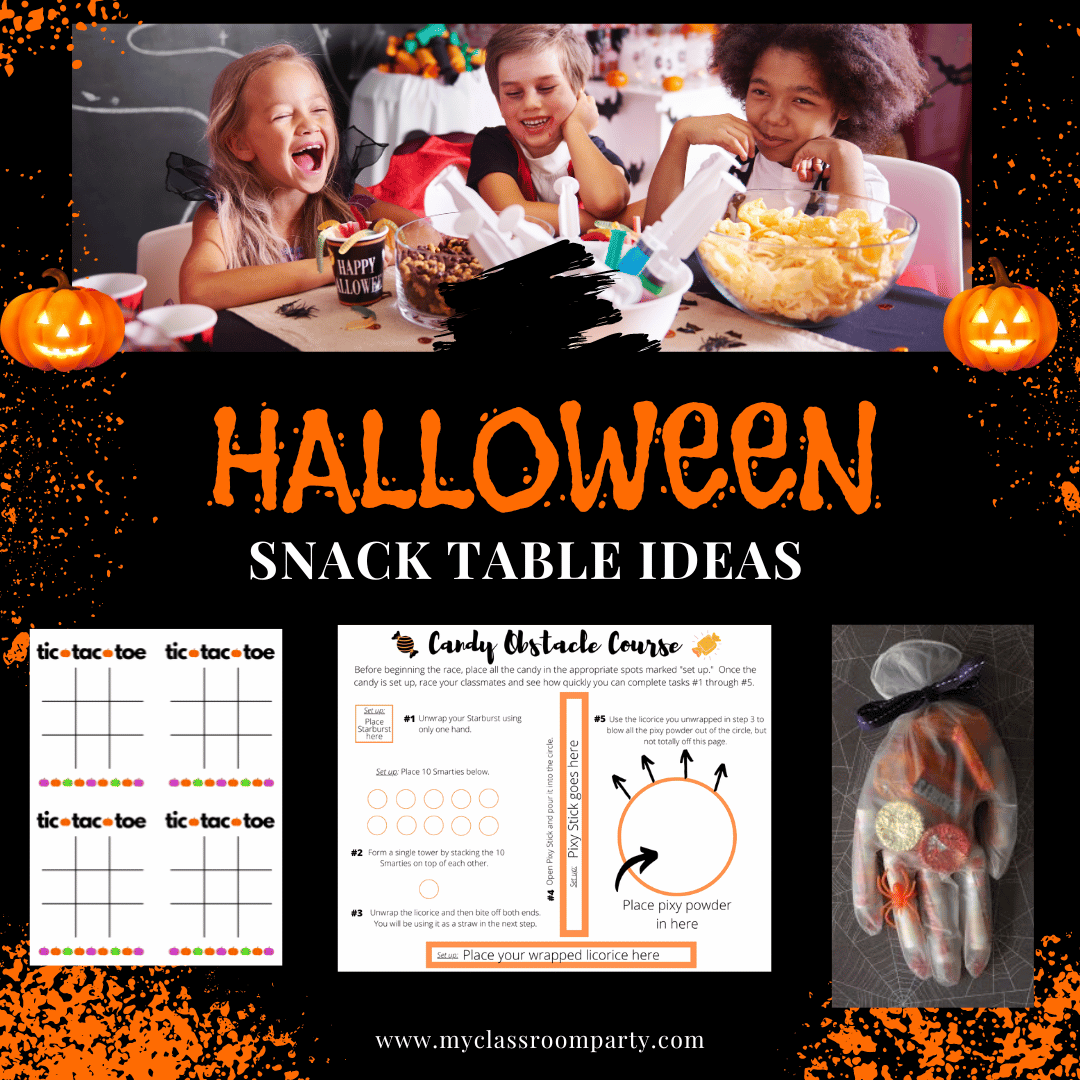 Everyone can remember the excitement and joy that came with their elementary school Halloween parties.  Students got to show off their costumes, play Halloween party games, engage in a fun craft and forget about school for one short glorious hour.  At these wonderful elementary school Halloween parties often the
snack
station or snack table was the focal point of fun and enjoyment.
The snack station or snack table can make or break a party.  Will you serve celery and carrots, or will you allow the students to create and eat their own cobwebs out of pretzels and chocolate?  With all the work that goes into throwing an elementary school Halloween party, we know you want to be sure it is a success.  


The first step to a successful Halloween party snack station for your party is to make sure you have an activity to include with the snack.  Students can either be creating the snack they will be eating, or playing a quick game using food items they can later eat.  Below are a number of fun food related activities that are perfect to go along with your Halloween party snack. 


If you aren't afraid of a little mess and are looking for a ton of fun that the students will remember in years to come, this is the perfect option. You will want to put a disposable tablecloth down on the table or group of desks you plan to do this.  Something that can easily be rolled up and thrown away when you are finished is best.  This game is a fun minute to win it type challenge where the kids get to race to finish a fun candy obstacle course. 
You can download the sheet for this game by clicking the image below.  The download is totally free  (they do ask for your address at check out, but it says on the website the address isn't used for anything so you can enter a fake one). Print one off for each student in the class and then you will need to bring in Starburst, Smarties, Pixy Stixs, and Twizlers for this fun game.  Follow the directions on the sheet that shows how to set it up.  Then let the students race each other and have a blast. The best part is the students can eat the game pieces as a treat when the game is over.  
This is a fun and simple activity to add to any snack station that requires very little work but will keep the students entertained as they enjoy their snack.  Just add two different colors of Halloween candy that the students can use as markers for the games (instead of marking the traditional x's and o's).  Different Halloween colored M&Ms or Hershey kisses work great for this game.
Click on the image above for a free download.  Simply print them off at home and bring them in for party day.  


3. Make an Easy Halloween Marshmallow Pop


This is a fun snack station activity because it allows the students to create what they are eating.  For this station you will need a large marshmallow, a sucker stick and sprinkles for each student. You might want to also include a cellophane baggie and tie for each student in case they want to take it home as a treat to enjoy later.  Directions for the marshmallow pops are below.  If you are feeling brave you could use melted chocolate to dip the marshmallows in before the sprinkles, but the water will work if you don't want to deal with the mess that comes along with melted chocolate. 
Place the marshmallow on the stick.

Dip the marshmallow in the cup of water for a few seconds coating the very top half with water. Do not dip the entire marshmallow as it might get soggy.

Dip the marshmallow in the sprinkles and cover the end that is wet.

Carefully place the marshmallow in the cellophane baggie, tie the twisty around it.

For decoration, add a spider ring around where the twisty is.
4. Make Halloween Goody Bags Using Gloves


This is an oldie but a goodie!  It is so simple yet very entertaining to elementary kids.  You can have the kids fill a glove with popcorn or candy.  Put candy corn in the finger section of each glove to look like fingernails and don't forget the spider ring to top it of!  This works best if you have bowls of candy or popcorn (whichever one you plan to use) out on the table along with a few spoons for the kids to use. Don't forget the disposable tablecloth to save yourself time when it comes to the clean up!
If you are looking for Halloween games for kids to add your class party, check out these
Halloween Party Kits
.  They come with everything you need for a class party and would be perfect to add to any of the activities above.
Make sure whatever activity you choose for your snack station to keep it simple.  Kids will need time to complete their snack and the activity so don't make it too involved.  Above all, embrace the spirit of Halloween and watch as the young ones have a frighteningly good time!