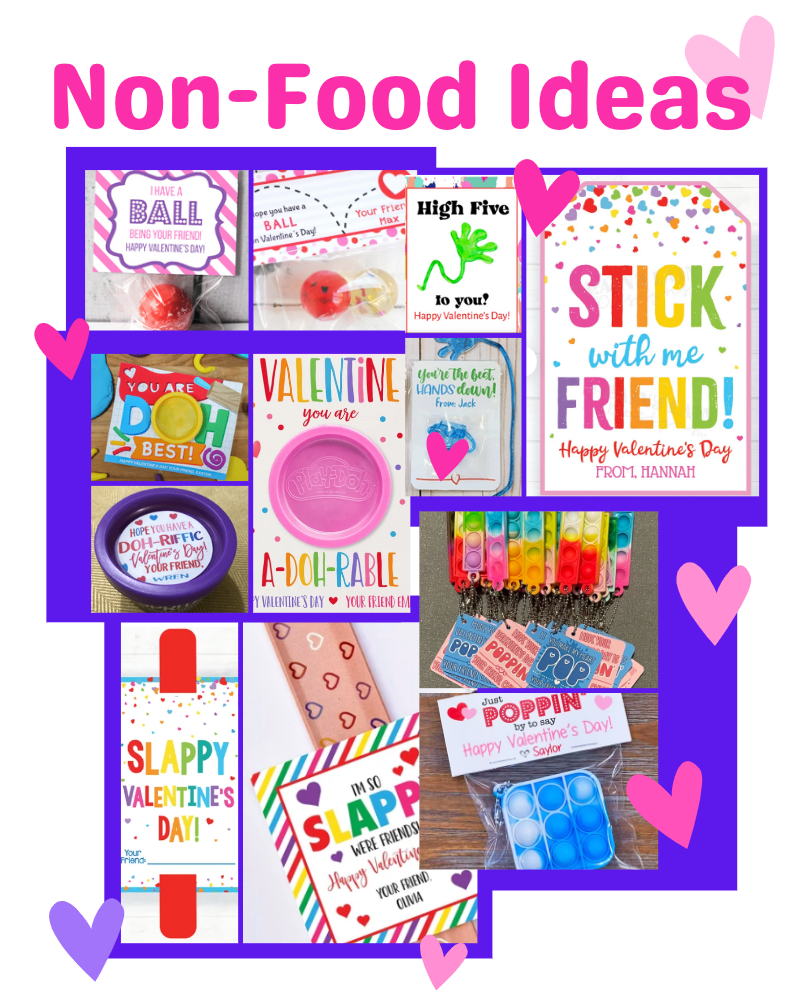 Valentine's Day class parties are the best! My kids look forward to it every year ❤️! It's such a fun time for the kids to play games, have a snack and pass out their Valentine's Day cards to their classmates. There's one thing that is certain on this day and that is.... there's plenty of sugar to go around! It's nice to have some cute and creative "non-food" Valentine's cards being passed out. They can balance out the chocolate candy hearts, the suckers and the conversation hearts :). 
Here are some really cute and easy ideas for non-food Valentine's Day cards.
#1 - Put a bouncy ball in a tiny sandwich bag or cellophane bag and print a cute saying on it and staple it to the bag. 
I have a "Ball" being your friend
I hope you have a "Ball" of a Valentine's Day
#2 - Buy some sticky hands and take a glue dot to stick them to the card. Or print your own cute saying on cards stock at home and then stick the hand to that. 
"Stick" with me friend
High Five to you, Valentine
3# - Tiny play-doughs are a great little Valentine's Day gift. 
Valentine, you are A-Doh-Rable
Have a Doh-Riffic Valentine's Day
4# - Little pop-its are still a hit with kids! There are some super cute sayings for the Valentine too. 
Have a Poppin' Valentine's Day
Hey friend you make my Heart Pop
Glad you Popped into my life
#5 - Slap bracelets are fun for everyone. Here are some cute sayings below for the Valentine's card:
Slappy Valentine's Day
Wishing you a Slappy Happy V-Day