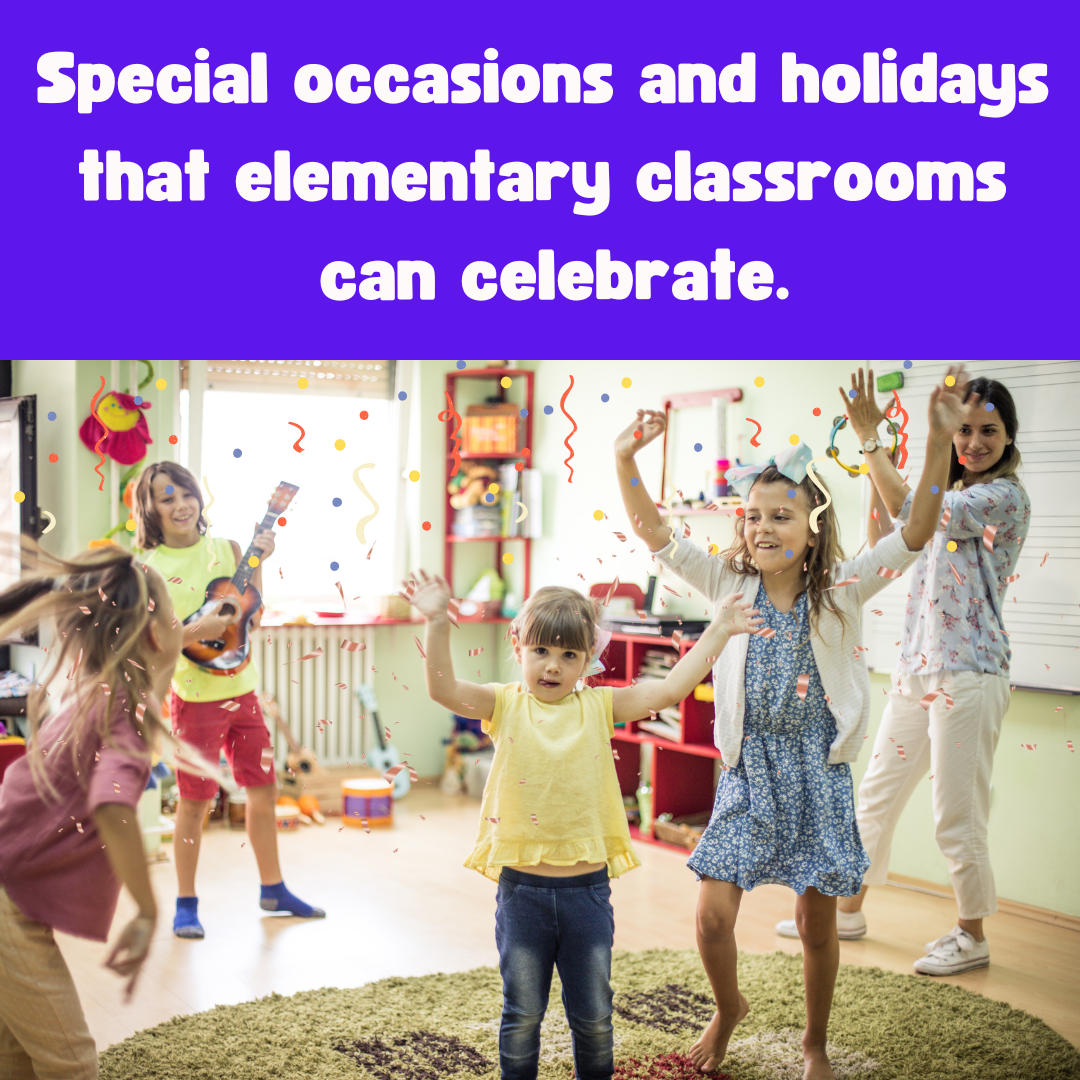 There are so many holidays and occasions to celebrate in elementary school.  Celebrating even minor holidays is a great way to bring joy into the classroom and also an excellent opportunity to teach the students about the significance of the holiday. 
We have compiled a list of the different occasions and fun ways to celebrate them below.  
100th Day of School Celebration
The 100th day of school is an exciting milestone for every elementary classroom. It 

signifies both the halfway point of the year and an important time for setting new goals and realigning a fresh outlook. Here are some fun ideas to celebrate: 100th Day Celebration Ideas
Reward Party
Reward parties are perfect for when students achieve a goal or to celebrate a special accomplishment. It's also a great incentive used for PTO or PTA school fundraisers. These parties can be thrown at any time of the year. You can put together your own party by finding fun games and bringing in all the supplies, or you can order 

Reward Party Kit

 that has everything you need.
Dr. Seuss's Birthday (March 2nd)
Get involved! Dr. Seuss's Birthday is a nationwide reading celebration that takes place annually on March 2 — Dr. Seuss's birthday. Across the country, thousands of schools, libraries, and community centers participate by bringing together kids, teens, and books, and you can too! Here are some great Dr. Seuss class party ideas on Pinterest.

Valentine's Day (February 14th)
Having a classroom Valentine's Day party can be fun for several reasons:

It's a break from the routine: Students spend most of their time in class studying and doing homework. A Valentine's Day party offers a break from the daily routine and provides an opportunity to have fun with friends and classmates.

Celebrating love and friendship: Students can show their appreciation for their classmates and friends by giving out Valentine's Day cards and treats.

Decorating the classroom: Preparing for the party can be a fun activity in itself. Students can work together to decorate the classroom with hearts, streamers, and balloons. You can create game stations or if you're limited on time you can grab a Valentine's Day Party Kit with a ton of fun activities already planned out and included.

Enjoying snacks and treats: A Valentine's Day party usually involves some kind of snack or treat, such as cupcakes or candy. 

Creating memories: Celebrating Valentine's Day with classmates can create lasting memories that students can look back on fondly in the future.

Presidents' Day (third Monday in February)
There's no better time to educate students about the United States presidents than for Presidents' Day. We Are Teachers Blog has a great article on their 20 favorite activities for the classroom on this day. 
St. Patrick's Day (March 17th)

Spring Fling Class Party (April or May)
A spring classroom party can be fun for kids to celebrate the season. Spring is a time of renewal, growth, and warmer weather. Celebrating this season with a party can be a great way to acknowledge and enjoy the change in weather and scenery.

You can have students make a cute spring banner for the class and cut out butterflies from construction paper to hang from the ceiling. The students can play a few fun
spring themed games
in the classroom and then go outside for some warm weather activities if the weather is nice.
Pinterest
has some great spring activities for kids.

Earth Day (April 22nd)

Earth Day activity ideas for school.
Organize an Earth Day scavenger hunt
Walk around the school grounds and collect trash
Plant a tree on the school property
Use cups to plant seeds for the kids to take home
Talk about recycling
Teach the kids about composting
Here's a link to 8 fun Earth Day activities for elementary school students. 




Halloween (October 31st)

Halloween is such a fun occasion to celebrate! Kids love to dress up and play games with their classmates. Here are some ideas for fun activities below. If you're a room mom or teacher and planning a Halloween party is not something you have hours of time to plan and shop for, MyClassroomPARTY has exciting Halloween Party Kits that have all of the games and activities included for you! 
Dressing up: One of the most exciting parts of Halloween is dressing up in costumes. Classroom Halloween parties allow students to wear their costumes to school and show them off to their friends.
School parade: This is a great way to have parents come and watch all of the kids walk around in their costumes.
Fun activities: Halloween parties often include fun activities like pumpkin carving, face painting, and games that students can enjoy.
Treats: Halloween is known for its sweet treats, and classroom parties usually have plenty of candy and other snacks that students can enjoy.
Socializing: Classroom Halloween parties provide an opportunity for students to socialize and have fun with their peers outside of normal classroom activities.
Creativity: Halloween parties often encourage creativity through costume contests, decorations, and other activities that allow students to express themselves in new and imaginative ways. Having the students do a craft together can be an exciting way to bond and have fun. 

National Pajama Day - (November 16th)


Also known as the comfiest day of the school year :). Often kids will wear their most comfortable pj's and even bring a stuffed animal or favorite pillow. This day is perfect to watch a movie have some popcorn or snack and make a special day out of it. Pajama Day is a great day to use as a reward day or a free day that the kids have earned. You can make any day of the year Pajama Day. 




Christmas Holiday Party or Winter Celebration (December)
Here are some ways that you can throw a fun holiday party.
Decide on a theme: Consider a Christmas theme, such as a Christmas tree, reindeers or candy canes, or a winter wonderland depending on what your school typically celebrates. Use this theme to guide your party planning.

Plan activities: Plan some fun activities that are suitable for the age group and the space you have available. These can include crafts, games, music, or even a secret Santa gift exchange.

Decorate: Get into the festive spirit by decorating the classroom with Christmas lights, tinsel, snowflakes, snowmen, and other themed  decorations.

Prepare food and drinks: Plan to have some snacks and drinks available for the students at a snack station. These can be simple, such as cookies and hot chocolate or more elaborate, such as a gingerbread house decorating station.

Organize volunteers: Recruit parents, volunteers, or other helpers to assist with setup, cleanup, and supervising the students during the party.
To save time you can purchase a complete
Christmas or Winter themed Party Kit
with unique fun games, crafts and refreshments included. Then all you will need is a few parents to help on party day. 



End of the Year Celebration


There are several reasons why students should have an end of the school year celebration. Here are a few links to help plan the perfect end of the school year and summer party. If you've planned the party and just need a few games to add you can grab some fun summer themed games here. 
Recognizing accomplishments: Celebrating the end of the school year provides an opportunity to recognize the accomplishments of the students over the course of the school year. 
Encouraging positive behavior: Celebrating the end of the school year can serve as a reward for positive behavior and hard work throughout the year. It reinforces the idea that hard work and dedication can lead to positive outcomes.
Boosting morale: Celebrations can be a fun and exciting way to boost morale and foster a sense of community and togetherness among the students.
Relieving stress: The end of the school year can be a stressful time for students, especially those who are transitioning to a new grade or school. 
Building relationships: Celebrations can provide an opportunity for students, teachers, and parents to interact in a fun and informal setting, which can help to build positive relationships and connections before school is out for the summer. 
Overall, celebrating the end of the school year can help to create a positive and memorable experience for students, while also acknowledging their hard work and achievements. 
The fact is that these years with our children will fly right by and we'll miss these special moments someday. Unfortunately, we miss them sometimes because we are short on time and can't do it all. That's why the company MyClassroomPARTY was created. They make it possible to help the teachers to have class parties and help room parents with the burden of planning and shopping for everything. You can get unique individual games or complete party kits for all sorts of different classroom celebrations.
Don't miss out on these exciting days and moments with your littles because they're only little once ❤️.